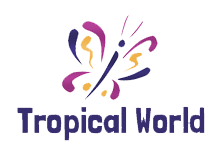 Tropical World's 10th Birthday 
The Story so far…
Opening its doors to the public for the first time on 4th April 2011, Tropical World is 10 years old this year. We thought we would take a trip down memory lane and share our journey with you.
What started off as a crazy idea became a brilliant reality, and 10 years on we couldn't be prouder of where we've come and the progress we've made. But of course, the journey does not stop here and there is so much more we aim to achieve in the future.
Tropical World began small consisting of a glasshouse with beautiful butterflies in free flight, a small collection of owls, reptiles and birds of paradise. Over the years it has gone from strength to strength and is now home to over seven different species of monkey from South America as well as four different species of Critically Endangered Lemurs from Madagascar. Visitors are transported to a wildlife paradise in the heart of Donegal, strolling through aviaries of beautiful birds from all across the world including Toucans from South America, Black Cockatoos from Australia and Hornbills from Africa. You can take delight in watching the mob of meerkats going about their day as well as fennec foxes and prairie dogs or take a walk through the bug room and reptile area to see some of the amazing creepy crawlies, stick insects, lizards and snakes.
After a very successful first year, Tropical World applied for and received its Zoo License in 2012. Since then, yearly inspections are carried out to ensure Tropical World meets the criteria of zoo standards around the world and ensuring that the highest standards of animal welfare is being achieved. With this Tropical World began to focus on Education, Research and Conservation. Continuous work is being carried out in these areas and was further enhanced when Tropical World became members of the British and Irish Association of Zoos and Aquariums (BIAZA). This is a professional body that represents Zoos and Aquariums in Britain and Ireland. Tropical World has been involved in many global projects such as the "buy an acre campaign" supporting conservation projects in Argentina and projects in conjunction with the World Wildlife Fund (WWF). 
With the support of the Zoo Licensing body, Tropical World welcomed its first primates in 2012. King Julian, the charismatic ring-tailed lemur was the first to arrive in Tropical World and can still be seen today! The first monkeys arrived soon after that, including Lilly and Bruno the cotton top tamarins who are always excited to greet our visitors who come each year. A reptile house was constructed in 2013 and many people will know Scarlet the corn snake and our bearded dragons. 2014 saw an extension of an outside area where existing animals such as the Snowy owl were relocated to improved outdoor spaces while making room for additional species. In 2015 Tropical World welcomed more primates, including pygmy marmosets- the smallest monkeys in the world! The following year the dinosaur experience arrived bringing in some of the largest animals to ever walk on earth! In 2017 construction was undertaken for the monkey houses you see in Tropical World today, with each family group having their own indoor and outdoor habitats to explore. 2017 was a busy year as the bug room was also built housing the tiny creepie crawlies you may not usually get to see up close. Tropical World undergone another extension in 2018 with an additional education room and four state of the art houses erected for lemurs, hornbills and our famous red billed toucans. This area was further improved in 2019 with another 9 habitats built. Six of these were purpose-built breeding rooms to enhance Tropical World's conservation mission. 
As the years progress Tropical World's focus on education and conservation grows stronger with school tours, youth groups, creches, preschools and community groups coming to learn about the animals, wildlife, conservation and sustainability. Tropical World also supports many local charities such as the Laura Lynn children's hospice, Pieta House and in 2020 for the first year Abbie's Butterfly Breeze, a mental health fundraiser also supported by Seaforde Tropical Butterfly House and Gardens in Antrim.
While Tropical World has seen a huge change in recent times with the pandemic, we only see it as a chance to adapt and evolve as a zoo providing a safe family day out for our visitors. In 2020 there was "baby boom" with the highest number of animals born at the zoo during lockdown. From Bali Starlings, Hornbills to Cotton Top Tamarins and Pygmy marmosets, many of the worlds endangered bird and monkey species were born which created great excitement for the dedicated animal care team during a difficult time. This success was facilitated with new technologies such as cameras placed in nest boxes to monitor egg and chick development. Looking to the future Tropical World has invested in renewable energy sources with solar panels powering the facility and all water is harvested on site from rain. Air to water heating systems have been installed throughout the zoo replacing the need for electric.
Aside from the animals, Tropical World has brought so many people together over the years, from the dedicated animal keepers to enthusiastic students from local schools as well as colleges throughout the country. Everyone brings something special to the zoo creating a positive energy and atmosphere that is impossible not to notice. This support structure has helped us through the highs and lows and you will always leave Tropical world with a smile.
After a tough year, Tropical World is hopeful for the future with many exciting projects ahead. We would like to thank everyone who has supported us over the last 10 years as without you we would not be where we are today. Described as "wildlife paradise" in the heart of Donegal, we are here to provide you a slice of the Amazon and learn about the animals we have come to know and love. An educational, fun family day out we cannot wait to share the next decade with you.